Sublimation Printing Guide
We specialise in sublimation printing and offer a wide range of sublimation supplies
catering for the part time hobbyist to large personalised and promotional printers.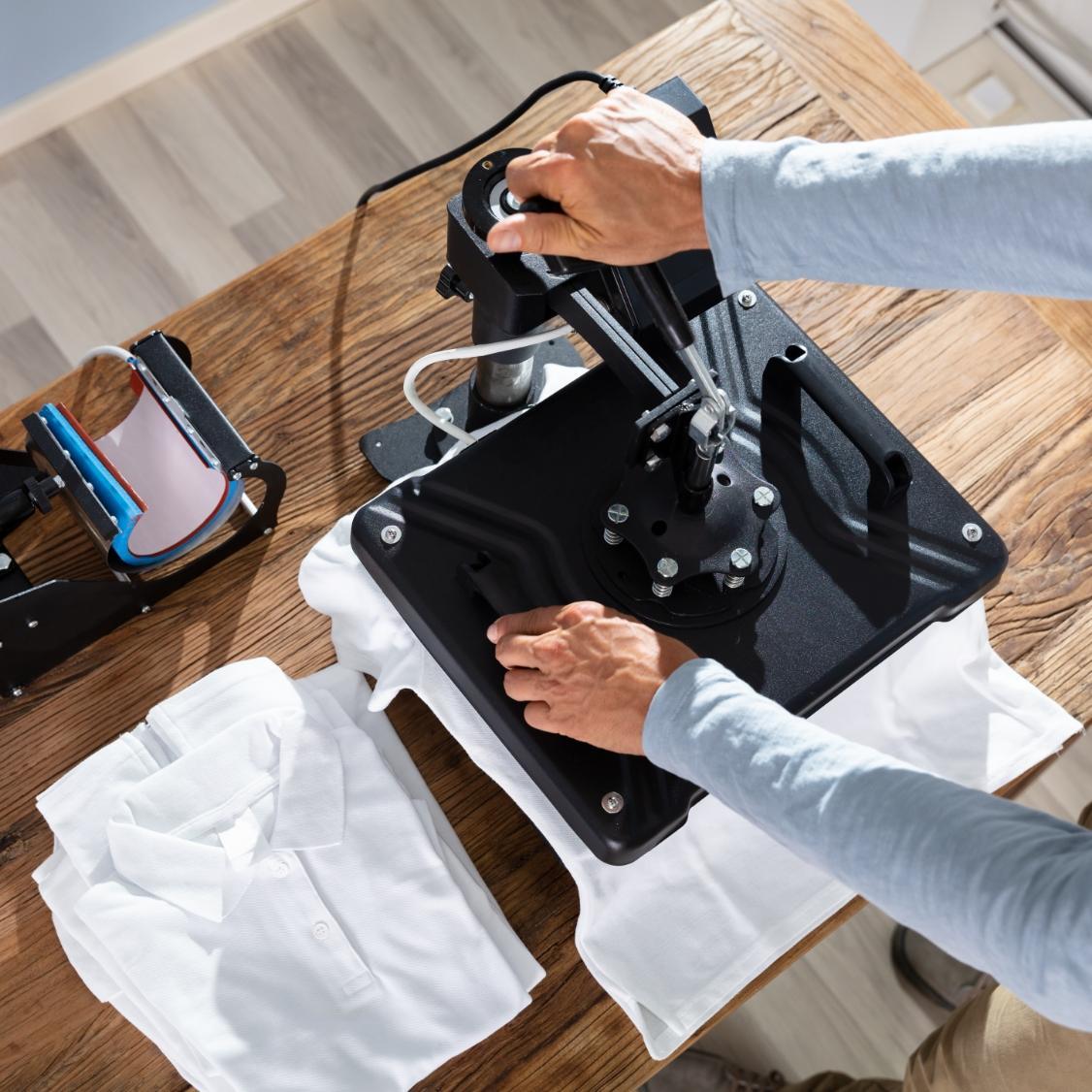 What is Sublimation?
Sublimation printing is a design process where inks are transferred onto the product using heat to create custom products or promotional material. Custom designs and images are printed onto sublimation coated paper, printed with sublimation ink ready to be heated and pressed using a heat press or element which will then transfer the image onto the polymers in the transfer material. You can transfer a design or image onto sublimation ready blank materials and fabrics such as T-shirts, bags, mugs, wood, slate and many more.
Sublimation Printing Process
Print your design onto sublimation paper.
Depending on the sublimation papers ink release, allow the ink to dry.
Set your desired time, temperature and pressure settings and heat press your sublimation blank.
Remove the sublimation paper and your transfer is complete!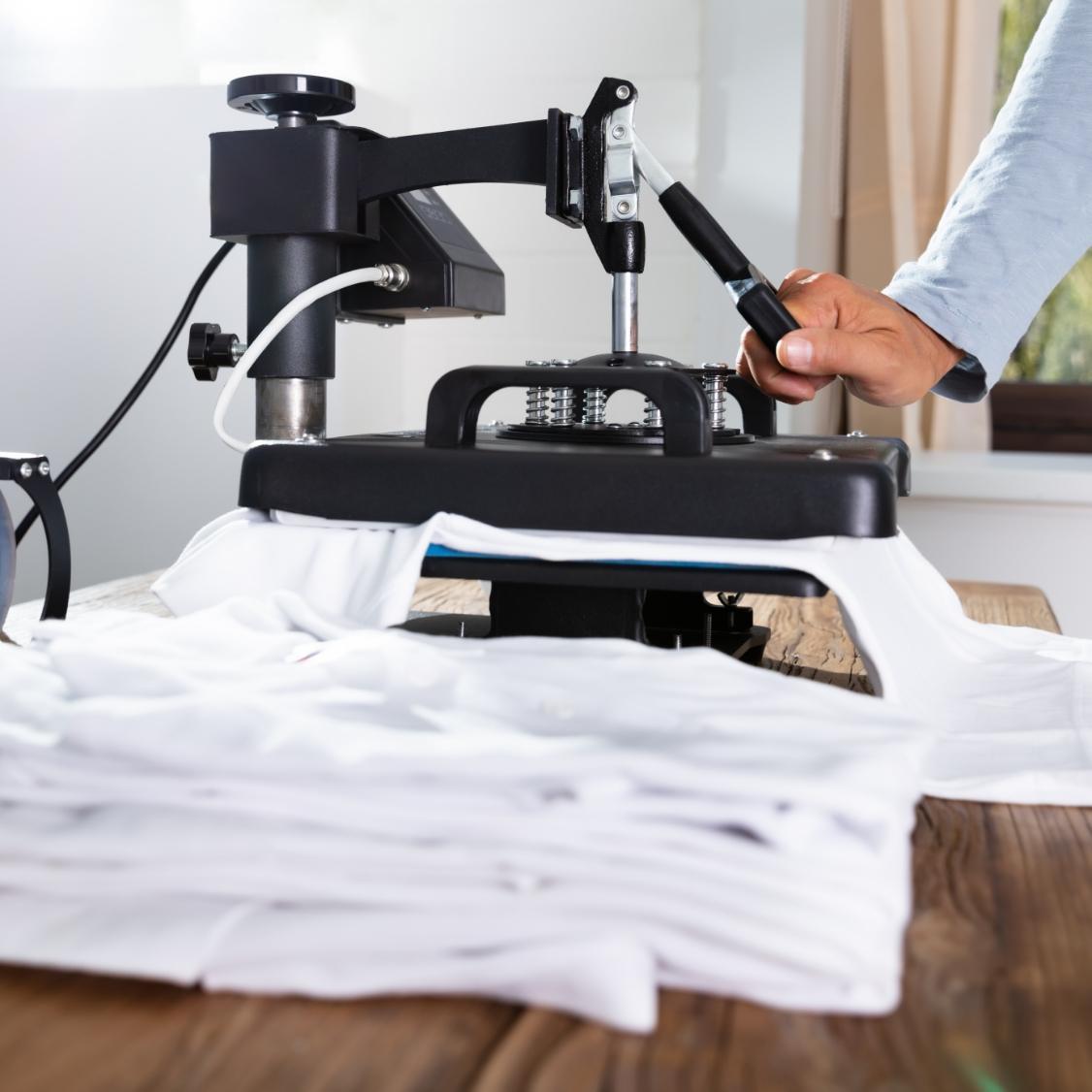 Why Sublimation Printing?
There are many ways to transfer designs and images onto different materials such as vinyl, heat transfer, Direct to film (DTF) and Direct to garment (DTG). So, why sublimation printing?
Sublimation or dye sublimation printing has been used within the personalised and promotional printing market for years and is one of the most cost-effective methods of producing printed products. It is popular with users from the part-time hobbyist right the way through to global printing businesses. Another reason why sublimation printing has become popular with businesses and consumers is the environmental benefits it offers. The process used ensures that there is very little waste.
What do I need to get started?
Sublimation Printer
You can purchase a sublimation printer manufactured for the purpose of sublimation printing which can be costly, or you can purchase a converted inkjet printer, we very simply change the use from inkjet to sublimation printing, this is a much cheaper way of doing things!
Our sublimation starter packages include everything you need to get you started, we have a range of A4, A3 and A3+ printers depending on your requirements.
Sublimation Ink
You will need sublimation ink, the ink used for printing is not the usual ink used in standard printers, sublimation ink can sublime (change its form) and reacts when heated. We offer a range of ink for different manufacturers. The ink can usually be purchased in various quantities, buying in bulk will help to keep your costs low.
ICC Profile
We recommend that you use an ICC profile when using sublimation ink, this is your colour management software. The profile needs to be custom made for the specific ink you are using. Without a profile embedded in your design software you will not achieve the bright vibrant colours when transferring your images. We include an ICC profile with all our sublimation printer packages. You will need to print from design software that allows you to add a custom profile, some of these include Adobe Photoshop, Adobe Illustrator, Gimp, CorelDRAW or Serif Affinity.
Click here to view our range of sublimation ink with an ICC profile included.
Sublimation Paper
You will need to purchase sublimation paper; you cannot use inkjet printing paper. Sublimation paper is coated and when heated gives off a gas which results in your transfer.
There are many different types of sublimation paper on the market. Some of them are more suited to hard surfaces or substrates and some of them are specifically for fabrics or clothing. We offer a range of sublimation paper, so we have something for everyone depending on your print  requirements. We supply paper in different sizes depending which package and printer you have, most are available in A4, A3 and A3+. The more you buy the cheaper it gets so stock up and keep your costs low.
Heat Press Machine
Sublimation requires a high level of temperature and pressure so you will need a heat press to press your items. There are many different heat press machines on the market so it will very much depend on which items you want to transfer your images onto. For example, if you are wanting to print flat items such as t-shirts, aluminium sheets, cushion covers etc you would look to purchase a flatbed heat press machine. If you are wanting to transfer and print onto mugs, you would purchase a mug press machine. If you are looking to print and press onto several items then you may want to look at a 5 in 1 or 8 in 1 machine so you can press multiple items or items with a unique shape such as caps, plates, dog bowls etc. Heat press machines are available in different sizes so be sure to get one with a large enough surface area for the items you want to print onto.
Sublimation Blanks
Sublimation blanks are coated and ready to receive the ink. Hard substrates such as slate, wood, glass need to be 'sublimation ready'. Fabrics such as T-shirts, Tote bags, cushion covers etc need to be 100% polyester to achieve a bright and vibrant transfer. You cannot sublimate onto cotton or dark fabrics. You can transfer your images onto pastel-coloured fabrics but they may not be as bright, the darker the garment the more faded or 'vintage' the transfer will become.