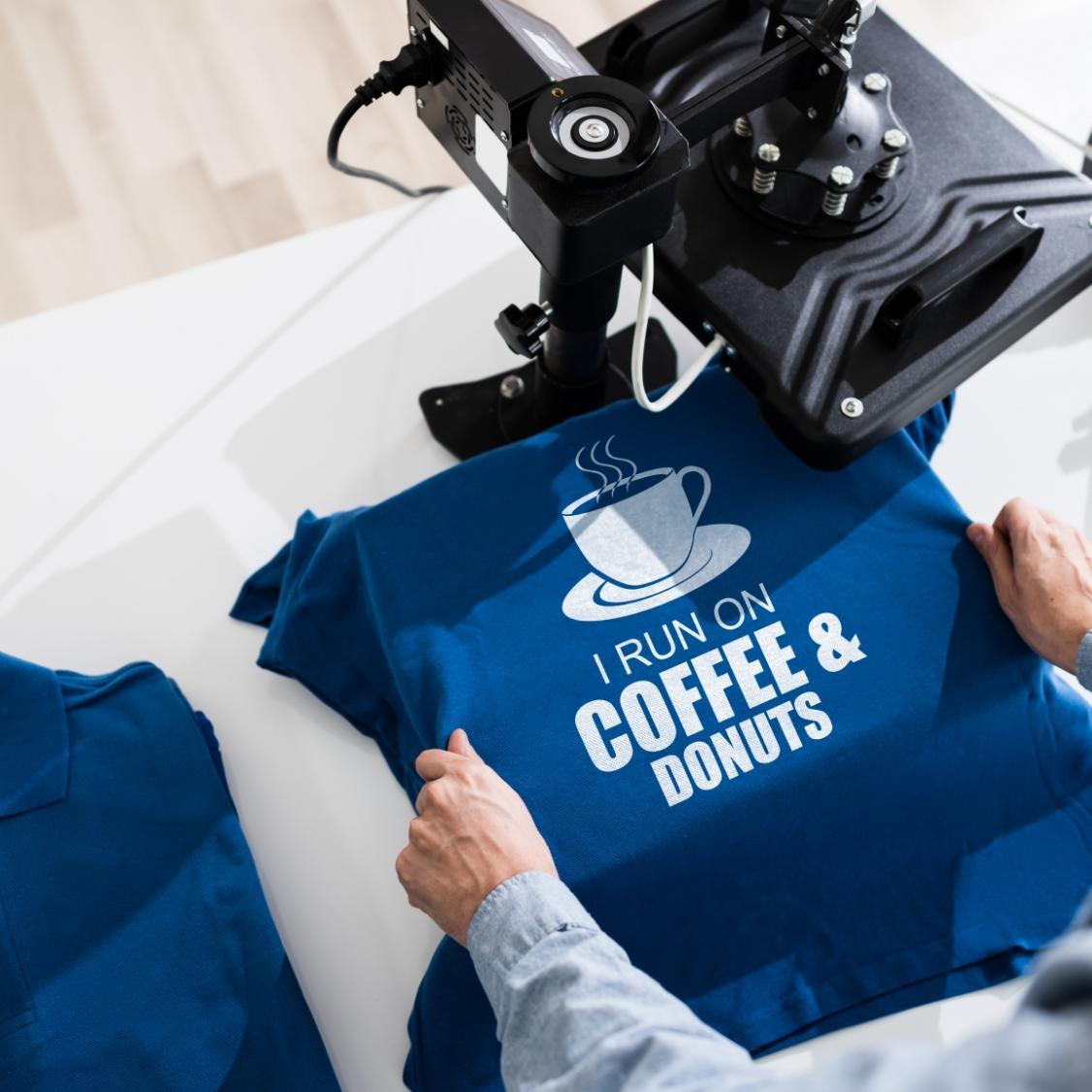 What is Direct to Film?
Direct to Film printing, also known as DTF printing is a heat-transfer based
print process. The process begins by printing designs onto a transfer film,
which is then covered with a hot melt thermo-adhesive powder and
transferred with a heat press to the final substrate. Direct to film (DTF)
printing is a similar process to direct to garment (DTG) printing. The key
difference is that, rather than printing directly onto garments, DTF uses
water-based ink to print a film transfer.
Direct to Film Printing Process
Design your image and
print it onto PET film.
Apply Hot melt Adhesive
Powder to the PET film.
Cure the coated PET film
to melt the powder.
Heat press the transfer onto
the garment, remove the film
and your transfer is complete.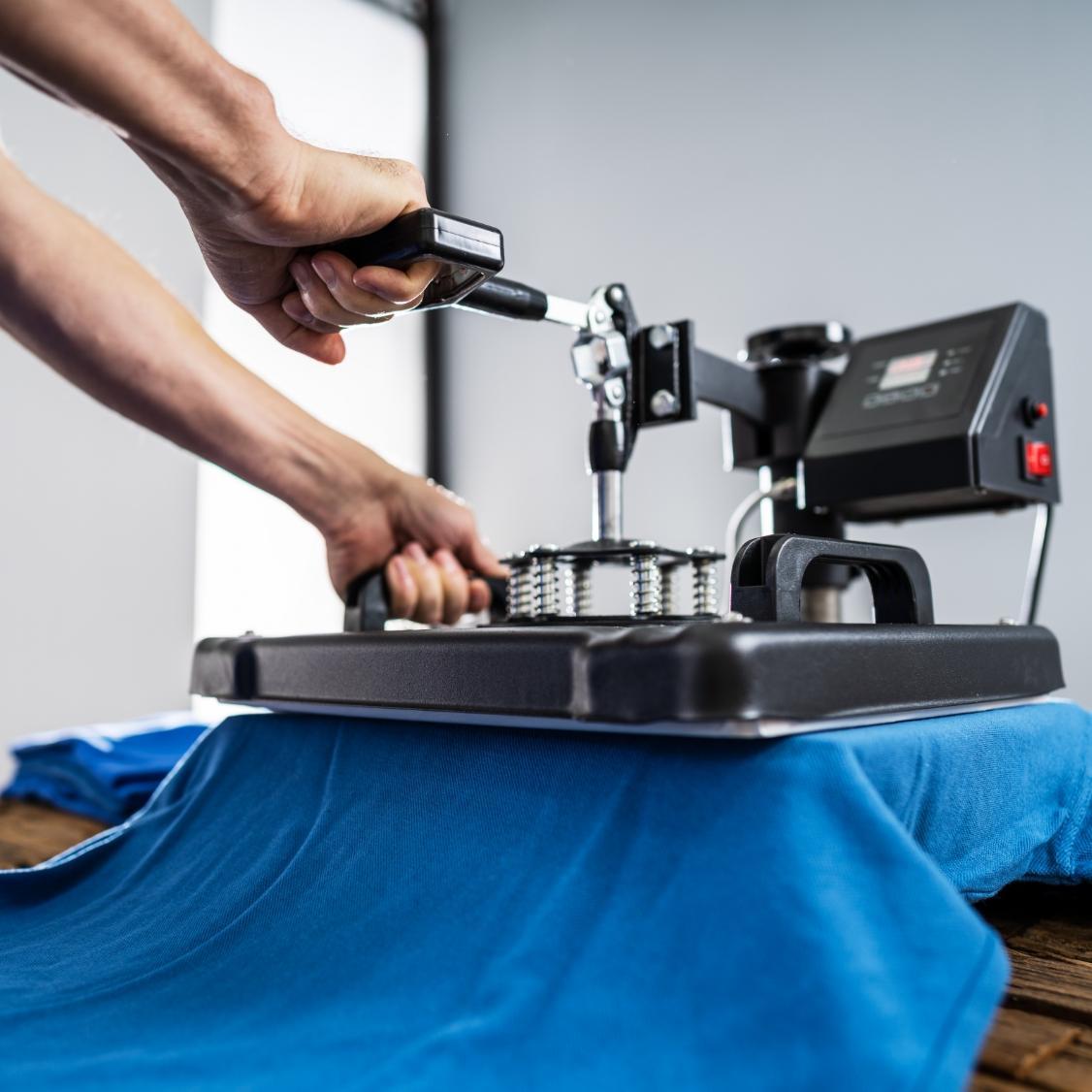 Why Direct to Film Printing?
Direct to Film printing is rapidly becoming a popular option for companies
looking to expand and grow their clothing business. DTF allows you to print
and transfer your designs onto a huge range of materials, including cotton,
polyester, canvas, leather, denim and many more. Unlike other printing
processes such as sublimation printing DTF has white ink so you offer
vibrant colour transfers onto any coloured garment. The durability is
enhanced by the water-based ink and thermo-adhesive powder making it
the ideal solution for production printing for clothing and workwear.
The DTF process practically lifts all restrictions that are commonly
encountered in other textile printing processes especially when it comes
to choosing the fabric to print on. Since pre-treatment is not essential, in
many cases, the overall cost of printing is brought down, offering a higher
profit margin. The textile printing industry is predicted to see massive
growth as more and more fabrics manufactured by DTF will come into the
picture. In conclusion, the DTF printing process can be thought of as an
effective way to produce fabrics economically.
What do I need to get started?
Direct to Film Printer
A DTF Printer is most commonly a converted six colour Epson inkjet printer. The Epson
Ecotank printers are ideal as they have 6 colour ink tanks. This provides the convenience
of operation as the CMYK DTF inks can go into the standard CMYK tanks whereas the
LC and LM tanks of the printer can be filled with White DTF inks. OEM printers are
available to purchase but are extremely costly when compared to a converted printer.
Direct to Film Inks
Direct to Film inks are specially designed pigment inks available in Cyan, Magenta, Yellow,
Black and White. The White Ink is a special component that lays out the white foundation
of the print on the film and onto which the coloured design is printed. The ink can be
purchased in various quantities, buying in bulk will help to keep yours costs low.
PET Film
PET films are used in the Direct to Film printing process, just as the name would suggest.
PET film is made from a form of plastic known as Polyethylene Terephthalate. These films
are different than those used in screen printing. These have a thickness of around 0.75mm
and better transfer characteristics. The PET film is available in sheets for small scale use
and in rolls for a more commercial setup. Another classification of the PET films is based
on the type of peeling that is done after the transfer. Based on the temperature, the films
are either hot peel films or cold peel films. The film can be purchased in various quantities,
the more you buy the cheaper it gets so stock up and keep your costs low.
Direct to Film Hot Melt Adhesive Powder
Direct to Film hot melt adhesive powder is a white polymer powder applied to the printed
PET film sheet. The powder acts as an adhesive material that binds the pigment ink to the
fibres in the fabric when heated. The powder is heated and melted using a heat source
such as heat gun, heat press or oven.
Click here to view our range of DTF Hot Melt Adhesive Powder.
RIP Software
RIP software is an essential part of the DTF printing process. The colour performance
and final transfer are greatly influenced by the software. The RIP software handles the
CMYK and white pigment ink allowing the printer to print in full colour with a white ink
background. Here at Ink Express we use and recommend Acrorip as its easy to setup
and simple to use.